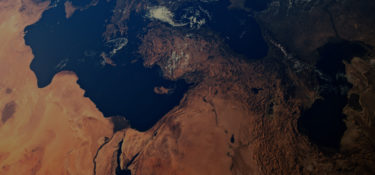 Improving forecasts with satellite data
Satellites orbit the Earth to gather and send information. Using this information, farmers can forecast harvests more reliably, while scientists can predict environmental disasters in good time, propose measures for adaptation to climate change or protect water bodies and biodiversity.
GIZ projects work with satellites worldwide
out of the 17 United Nations Sustainable Development Goals are supported by satellites.
Satellite data is often combined with information that is recorded by sensors in aeroplanes and drones. This information, referred to as remote sensing data, is a useful tool for illustrating and responding to complex local issues in 'low-data' regions that are inaccessible or are affected by conflicts. As remote sensing data is recorded independently of national boundaries, it is possible to close data gaps.
In addition, satellite data and other remote sensing data can be used to track the development of geographical conditions over extended periods. This makes it possible to monitor the consequences of rainforest deforestation, environmental pollution, forest fires and flooding and to introduce relevant development policy measures. Satellite data also makes it possible to set up forecast systems and early warning systems so that affected countries can prepare for environmental events in good time.
MAPME
Maps for Planning, Monitoring and Evaluation is a KfW Development Bank initiative to promote open source in the use of remote sensing and geodata for impact measurement in development cooperation. The basic idea is to make methods and tools of geodata analysis equally accessible to all institutions in international development cooperation and to partners on the ground.
Project website
InsuResilience
protects farmers against weather-related damage through new insurance models. The design is based on weather data that is provided by satellites. If the quantity of rain exceeds or falls below certain limit values, a payout sum is provided.
Project website
GIZ Data Lab
uses satellite data in cooperation with the Columbian statistics authority DANE to obtain a comprehensive picture of the city of Medellín and support political decision-makers in planning a resilient living environment.
Project website
FAIR Forward
works with the non-profit Radiant Earth Foundation and the Makerere University to organise virtual boot camps for specialists from partner countries in Africa. The aim here is to train participants in applying AI techniques to utilise geodata for sustainable development.
Read more