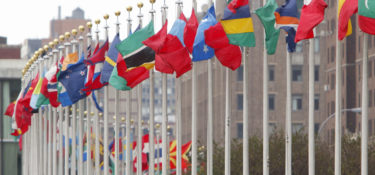 Digital transformation for democratic principles
Newsticker, Facebook, WhatsApp and Twitter comments: Digital transformation is creating new spaces that enable millions of people to get information online, engage in discussions and exchange opinions. In this way, digitization opens up the opportunity for them to realize their rights to freedom of expression, freedom of assembly and access to information. For governments and administrations, digital technologies offer a wide range of opportunities to reform the public sector and improve access to services.
At the same time, new risks emerge: Lack of access and education can exclude entire populations from digital development. Digital tools and technologies can be misused for authoritarian and repressive purposes, such as monitoring and restricting privacy and freedom of expression. Fake news, hate speech, and the targeted spread of disinformation can influence elections and the shaping of public opinion. In cybersecurity, threats include cybercrime and cyberattacks on critical public infrastructure, as well as data theft and espionage. Dependence on large tech companies continues to increase. In the context of the autocratization observed in all parts of the world, there are also strong state interests in controlling access to and use of the internet. Promoting a free, secure, and open internet, interweaving digital with analog participation formats, and fostering digital skills and literacy can help mitigate risks and challenges and achieve an inclusive digital future for all.
of the world's population now live in autocracies – up from 42% in 2012
African countries has a legal framework for cybersecurity
of people over the age of 15 in low-income countries have no legal identity or no official identity card
Digital administrative services have exploded around the world in the last twenty years. They are critical to developing an innovative economy and building a digital society. However, many countries are struggling to keep pace with the trend toward digitizing administrative services. There is often a lack of financial resources and technical capacity. This leads to fragmented services, duplicate structures or the complete absence of digital administrative services. This is where multifunctional and cross-sector digital e-government solutions can make a decisive difference. This is because they are easy to design, implement and scale. Shaping the digital transformation in terms of good governance and democratic principles is central. A people-centered approach is central to harnessing the potential of the digital transformation, meeting the associated challenges and mitigating risks.
GovStack
promotes digital administration modules that can be reused in various contexts. These administration modules are digital public goods that unite three characteristics: they do not compete, they are not excludable and they are available worldwide. With the aim of disseminating digital public goods, the German Federal Ministry for Economic Cooperation and Development (BMZ) has been a member of the Governance Board of Digital Public Goods Alliance since 2021.
Website
Digital Enquirer Kit
enables civil society stakeholders and media professionals to detect and combat misinformation. The kit takes the form of an online training course consisting of six modules. It provides people with concrete strategies and methods for making the global information and communication space more secure in order to better protect themselves and their own content online.
Project website
Data-Cipation
supports citizen engagement with data-based approaches and new technologies, thereby strengthening the participation of citizens in the African Union's decision-making processes – very much in the spirit of good governance.
Project website
INDIGO
supports the application of e-governance approaches at municipal level. This measure promotes the co-creative development and implementation of measures for improving the municipal quality of life. There is a particular focus here on the needs of women, young people and people with disabilities.
Project website
JAGA
is an app with which Indonesian citizens can obtain an overview of local services and draw attention to any problems. This helps to combat corruption and improve accountability. JAGA now covers a third of the entire national budget, with the result that the use of public funds is more transparent and accountability towards the general public has improved.
Website