As a result of the Covid 19 crisis, more than 1.5 billion learners in more than 190 countries have been and are currently temporarily affected by the closure of educational institutions. This exacerbates already existing inequalities in access to education and learning content, and particularly affects vulnerable groups.
atingi has responded to this challenging situation by working with several German DC partner countries to develop a variety of content and learning formats to educate about symptoms and prevention options of the coronavirus and to dispel myths and misinformation about Covid-19.
But even independently of the pandemic, atingi has set itself the goal of facilitating digital access to knowledge.
What is atingi?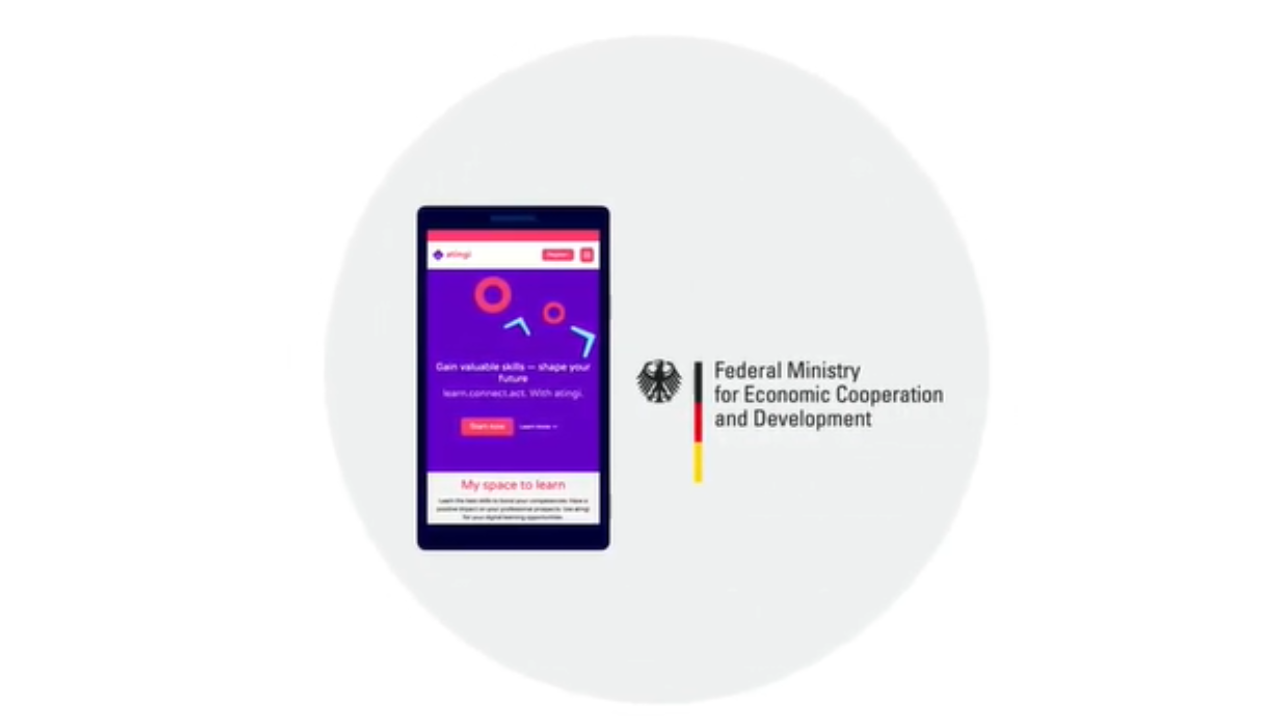 Our approach
The digital learning platform atingi.org offers people in the partner countries of German development cooperation exactly the knowledge modules, orientation offers and learning materials that are needed locally and fit the economic and cultural needs. Through digital learning with atingi, young people are given the opportunity to tap their full potential, acquire new skills, and significantly improve their chances on the local job market.
atingi enables access to high-quality digital learning content anytime, anywhere and DSGVO-compliant, while being free of charge for partners and learners. The courses are offered on a Moodle-based platform and can be accessed via PCs, smartphones or tablets. With the atingi app for Android, courses can even be downloaded and completed offline. There are currently more than 400 courses on atingi.org, using a wide variety of learning formats. Many courses can be completed by learners in self-study via video modules, texts, playful elements, and even quizzes. In addition, atingi also offers tutored courses and so-called "blended learning" formats that combine digital learning and face-to-face events. After completing the course, participants receive a digital certificate to prove their participation. Currently, more than 180 active GIZ projects also use atingi for their digital learning offerings.
In order to reach learners effectively and offer relevant content, the project cooperates with companies and organizations from politics, business, civil society, and science, such as the "Make-IT" initiative, the German Siemens Foundation, and the Green Innovation Centers in the agricultural and food sector.
The Smart Africa Secretariat, an association of 30 African digital ministries, is an important strategic partner for the implementation of the project.
Where do we stand?
We have now reached a total of over 11 million people with atingi and are pleased to have more than 700,000 registered users, that completed over 600,000 learning units. atingi supports courses in 21 languages, including Arabic, English, French, Vietnamese, Portuguese, and Spanish.
Our goal
We want to significantly expand the reach once again and reach twenty million people by 2025 and increase the proportion of female users to 40 percent (currently 26). In addition, we want to bundle all BMZ digital education offerings on atingi and attract additional donors.
New projects can use atingi as a learning platform to access existing infrastructure, learning content and expertise. atingi provides the building blocks for implementing digital learning offerings quickly, effectively and cost-efficiently – license-free and in compliance with data protection requirements.
For existing projects, atingi offers the possibility to make learning content available to a larger user group and to continue to use it, thus achieving significantly greater reach