Digitalisation makes authorities in West Africa more efficient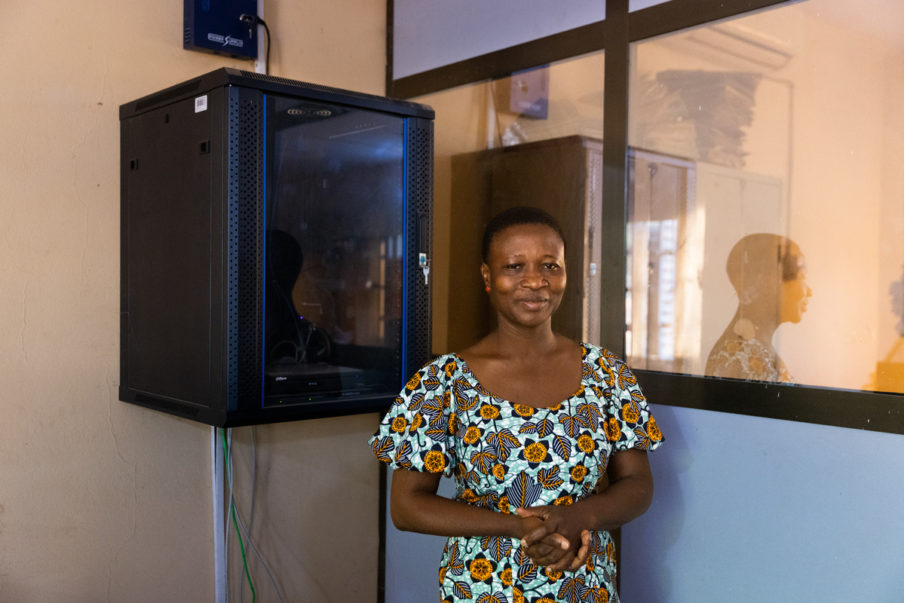 KfW promotes infrastructure and IT equipment at all administrative levels
West Africa is driving progress in the area of digitalisation, which KfW is supporting through a wide range of financing measures. In Benin, for example, KfW is financing a large administrative network including a modern data centre and equipping authorities with IT systems on behalf of the German Federal Government. This type of administrative network and authorities' connections to it are also to be financed in Ivory Coast. KfW is supporting Senegal in both making the government's intranet more reliable and modern, as well as digitalising the land registry cadastre – an important contribution to efficiency, legal certainty and transparency. With the help of the regional development bank BOAD (Banque Ouest Africaine de Développement), KfW is expanding these e-governance approaches to the entire region and offering low-interest financing for digital administrative projects.
Employees in the authorities in Benin sometimes circumvented the lack of access to applications by using their personal mobile phones to transfer data. In cases where applications were missing, data was sometimes still exchanged between the authorities in paper form or via external data storage – with correspondingly high susceptibility to errors in data transmission and recording as well as security risks. This is now a thing of the past. On behalf of the German Federal Ministry for Economic Cooperation and Development (BMZ), KfW successfully boosted the digital competence of the Beninese administration with an initial contribution of EUR 10 million. A further EUR 14.3 million is planned in a second phase.
The first steps have already been taken. A national data centre was equipped with server rooms, IT systems, electricity supply and security facilities. Ministries, the presidential office and prefectures – a total of 187 authorities are now connected to each other in an administrative network. Some of the individual locations are connected by radio and some by fibre optics. 27 central hubs received an emergency power supply with photovoltaic systems. This ensures access to the network even in the event of a power outage. Around 11 million people will benefit from the fact that the authorities are now more transparent and efficient.
The next step is to connect all municipalities in Benin to the administrative network. This will give them access to key applications which facilitate budget planning, awarding of contracts and generation of statistics. This will strengthen the municipalities' ability to shape and manage their own affairs.
Many employees are still unfamiliar with the new IT infrastructure. This is why extensive training is being provided to show how the new digital tools facilitate administrative procedures. The development of a concept for data governance and raising awareness of how to handle confidential data also play an important role in this.
Just how much the government of Benin welcomes digitalisation can also be seen from the fact that it made a high counterpart contribution of around EUR 4.8 million in the first phase alone.
The project in Benin is exemplary for the region of West Africa. For example, Ivory Coast is also planning to finance a standardised administrative network for the authorities based in the greater Abidjan area through KfW in the amount of EUR 20 million. Digital applications for better communication between authorities are also to be established.
In Senegal, KfW is financing two e-governance projects on behalf of the German Federal Government. With the first project, KfW is supporting the digitalisation of the land registry cadastre with a grant in the amount of EUR 29 million by mapping the land register in a geographic information system (GIS). No uniform cadastres in the various municipalities have existed up to now. The project is financing the construction, rehabilitation and equipping of all data management centres. There are also plans to build community houses in some municipalities, which will enable easier access to administrative services. Land titles will be transparent and reliably verifiable in the future, which will also strengthen confidence in the state. In addition, a second project will finance the securing of reliable access to IT services and the connection of public administration to the government's intranet with the amount of EUR 40 million. This will provide citizens with high-quality public services in the future and improve private investment conditions.
At regional level, KfW is focusing on exchanging knowledge and leveraging its funds when financing digital projects. In the future, BOAD will be able to offer its partners low-interest loans for digital projects, facilitated by KfW grants. The aim is also for the countries in the region to use IT solutions that are as standardised as possible. Among other things, this will contribute to the exchange of knowledge and facilitation of cross-border cooperation.
This is a partner contribution of KfW Development Bank. Find more news from KfW Development Bank here.