Why do we need Green IT?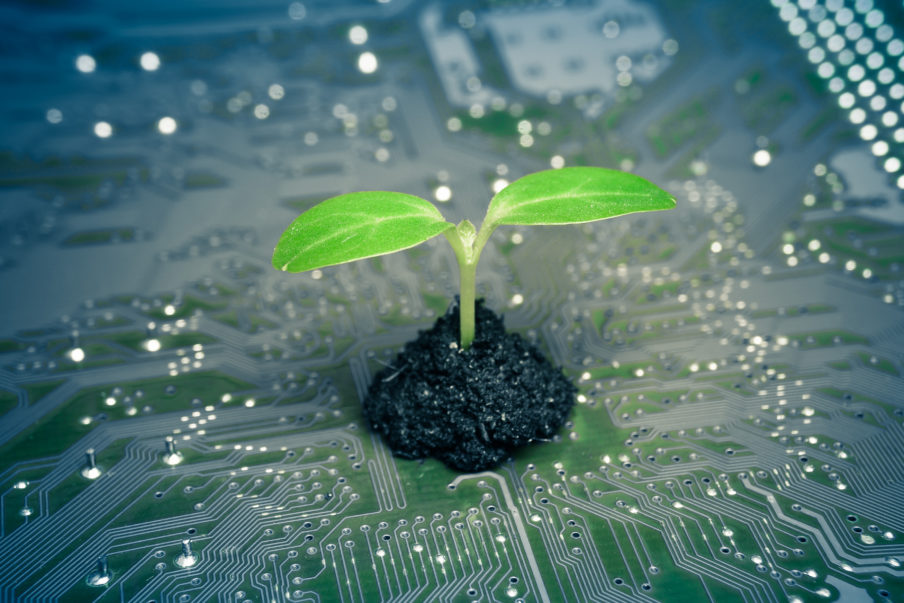 Digitalization has become an integral part in every aspect of human life and will not cease to do so in the future. Indeed, it can play a key role in achieving a sustainable future and therefore needs to be used to its full potential. Digital solutions have also become essential in all fields of development cooperation. They are especially necessary in achieving sustainable outcomes. However, just as digital tools can be utilized to combat climate change, rebound effects can drastically decrease their benefits. The purpose of this blog post series is to discuss how digital technologies may have an influence on the environment and to introduce green technologies, key initiatives, and projects in development cooperation working on and with Green IT.
Greening by IT
The versatility of digital tools makes them deployable in many different contexts and fields. With the so-called Industry 4.0, manufacturing can be optimized to become much more energy-efficient and much less polluting. Digital tools are also utilized in important areas, such as agriculture, e.g. for machine control or monitoring of environmental factors, in mobility, e.g. for intelligent logistics, ride sharing or smart logistics or in the energy sector, e.g. for smart grids or smart buildings to ensure sustainable outcomes. Furthermore, through a more digitized and interconnected world, everyday lives have automatically become greener: Increased digital communication has directly decreased physical mobility and paper production and thus has great potential to decrease CO₂ emissions, pollution and deforestation. Therefore, digitalization holds great potential to assist in achieving the goals of the Paris Agreement and the Agenda 2030. In fact, a report from 2020 by the UN Secretary General Task Force on Digital Financing of the Sustainable Development Goals (SDGs) as well as an article published as part of the World Economic Forum Annual Meeting in 2019 predict that digital technologies can help reduce carbon emissions by 15% by 2030 and certain new technologies, such as 5G, the Internet of Things (IoT) and Artificial Intelligence (AI) can even speed up this process.
Greening of IT
On the other hand, studies have shown that despite their great potential, digital technologies have not been able to significantly diminish material and energy consumption. Quite the contrary; the vast digitalization can be held accountable for increased energy consumption and pollution. For one, the worldwide reach of digital technologies across industries means a surge in energy consumption. The digital revolution made high tech devices easily accessible, thereby increasing the individual demand. According to a statistic, the average number of devices a person has in Germany was about 7 devices in 2020. A survey by the Deloitte Center for Technology, Media & Telecommunications (2021) found that the number of devices the average US household possesses doubled during the Covid-19 pandemic to reach 25 devices per household. The data centers that ensure the safeguarding of the huge amount of data generated through the new consumption behavior of digital technologies require a tremendous amount of energy. This energy is mainly consumed for running and cooling the equipment and servers in order for them to not overheat and to keep functioning.
Furthermore, the emergence of cryptocurrency and data mining also consume an immense amount of energy. Not only is energy consumption higher, but digital technologies also release greenhouse gases. In 2020, a study by Bitkom e.V. (2020) estimated that between 1.8 to 3.2% of global greenhouse gas emissions could be tracked back to Information and Communication Technology (ICT). Digital devices contain different natural resources and minerals, such as gold and copper and also rare minerals. The process of resource extraction often causes serious damage to the ecosystem. In addition, most of the produced electronic waste is heavily polluting the environment and poses a serious threat to human health since it remains unrecycled. This also means that most of the aforementioned raw materials are wasted.
Rapid technology development produces energy-optimized hardware, intelligent ICT systems or energy-efficient data transmission networks that can mitigate and even reverse these negative repercussions. As digital solutions have become fundamental in cooperation projects, mobilizing politics towards green technologies and raising awareness about possible complications within development cooperation and to partner countries, is essential.
The European Green Deal
The European Green Deal is a set of policy initiatives launched in 2019 by the European Commission (EC) to make the European Union (EU) climate neutral by 2050, by mobilizing industry for a clean Circular Economy and zero pollution for a toxic-free environment. Thus, the EC set the path for the highly prioritized 'twin transition'. The 'twin transition' emphasizes the intertwined future of green and digital transitions. The European Green Deal is, thereby, setting a great example for making use of digital technologies as drivers of the green transformation.
Conclusion
To conclude, despite being one of the main driving forces of the green transformation, digitalization can lead to unexpected and unwanted outcomes that can be counterproductive. Accordingly, the promotion of green technologies is a crucial element to avoid these consequences. This digital topic sheds light on different components of Green IT and the role they can play in ensuring a green digital transformation.
In its report "Towards Our Common Digital Future" WBGU found that digital change and the transformation towards sustainability need to be closely interlinked to cope with future challenges like climate-change, earth-system protection or human development.
It identifies three dynamics of the Digital Age:
digitalization for sustainability, which means that digitalization has the potential to mitigate global environmental and developmental problems, but it could also aggravate these problems.
moving towards sustainable digitized societies and
the future of homo sapiens and preparing for long-term changes.
As these dynamics are not set in stone, we need to consciously shape them, in order to achieve the future we want.
---
You might also be interested in