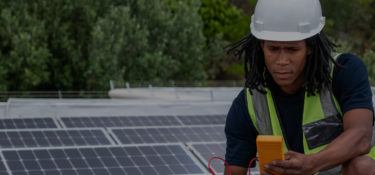 Digital transformation for a climate-neutral and climate-friendly future
Whether caused by drought, flooding or storms, disasters and deaths attributed to climate change are occurring with increasing frequency and severity. We know that we must find innovative solutions if partner countries are to adapt better to these changes and develop on a sustainable basis. Digital technologies such as artificial intelligence (AI) have enormous potential to help us adapt to climate change. They can detect impending droughts or extreme weather events in good time, manage irrigation efficiently while conserving resources, and contribute to evidence-based sustainable mobility planning in urban areas. At the same time, the digital transformation is having a negative impact on our climate footprint – enormous amounts of electricity are required to operate and cool the servers that support gigantic data centres and the rapid growth in global data transfer.
Whether digitalisation turns out to be an accelerant of ecological and social crisis or a tool that will help achieve a sustainable future therefore also depends on political will. For this reason, high on the list of priorities is the green and digital 'twin' transition of the European Union's Green Deal. The aim is to design and use the digital transformation in a climate-friendly way to achieve the 1.5°C target set down in the Paris Agreement and the Sustainable Development Goals (SDGs).
There have so far been few robust cases of digital technologies being used in the fight against climate change in development cooperation – but that is likely to change in the near future. The International Energy Agency calculates that 40% of expected global reductions in CO2 emissions by 2050 will come from technologies that are currently still being tested, many of them digital. Our aim is to recognise this potential at an early stage and use it to promote green innovation in cooperation with local and international partners, scale these developments up and at the same time minimise any risks posed by the digital transformation. This is the only way to make digital transformation a human-centred process. BMZ promotes green components in existing digitalisation projects:
FAIR Forward
The FAIR Forward – Artificial Intelligence for All initiative contributes to the open and sustainable development of artificial intelligence in close cooperation with partners from the global South. It supports the Lacuna Fund, for example, which creates datasets for machine learning. These can be used to fill gaps in climate data.
Read more
Transformative Urban Mobility Initiative (TUMI)
TUMI data helps cities to make urban mobility climate-friendly and digital. With the aid of artificial intelligence, high-resolution satellite data are prepared for use in planning processes. They are then combined with recently acquired data on gender and visual, geographical and environmental data, and made available via a mobility data hub.
Read more
Prevent
Transition to a circular economy is crucial if we are to reduce greenhouse gas emissions. As part of the Single-Use Plastic (SUP) Challenge, the PREVENT Waste Alliance is working with The Incubation Network on digital solutions to prevent marine litter and avoid single-use plastic waste in the food service industry in South and South-East Asia.
Read more