Federal Ministry for Economic Cooperation at re:publica 2023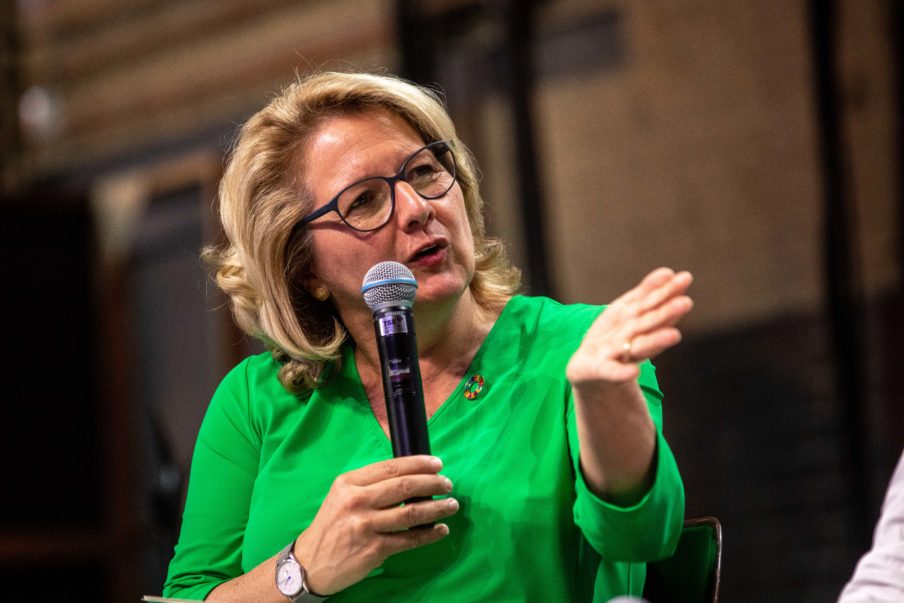 At this year's re:publica, the largest festival for the digital society, one topic took center stage: CASH. Under this motto, representatives from science, politics, companies, NGOs and the media, as well as bloggers, activists, artists and social media experts exchanged ideas on topics of digital transformation.
The contributions of over 1100 speakers on 18 stages showed that digital transformation is not only a technical, but also a social and global topic.
In several panels and discussion groups, the German Federal Ministry for Economic Cooperation and Development (BMZ) and its partners from the [digital.global] network presented innovative approaches and projects for digital solutions in partner countries. They focused on platform work, artificial intelligence, climate protection, feminist development policy, health and international digital policy.
"Click, Hire, Fire?" For fairer rules in the gig economy
In her keynote, German Development Minister Svenja Schulze emphasized the need for better working conditions and fairer pay for short-term employment worldwide. Despite the attractiveness of flexible working hours and low barriers to entry, especially for women, there is often a lack of regulation and thus of social protection and fair pay, she said. The panel discussion with Esther Gathigi-Kibugi, Country Director of the Digital Opportunity Trust Kenya, and Dr. Mark Graham, Director of the Fairwork Foundation, as well as the subsequent MeetUp with the panelists and SDG Ambassador Reiner Hoffmann showed how we can address the challenges of the Gig Economy.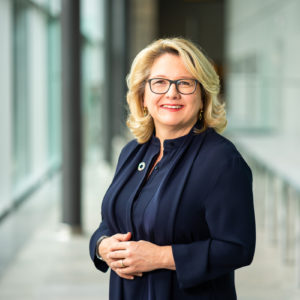 "I am committed to a gig economy in which fair rules apply. This protects workers and creates new, decent jobs. And I am committed to making digitization democratic, socially just and climate-friendly everywhere in the world. Digitization is not an end in itself. With the right framework conditions, it is the key to a socially just and ecologically sustainable transformation."

Svenja Schulze, Federal Minister for Economic Cooperation and Development (BMZ)
Only one in three women worldwide can withdraw money
Mary Ellen Iskenderian, CEO and President of Women's World Banking, showed in her presentation "Women's needs are unique. Their financial solutions should be too!" the need for a feminist development policy in the financial sector and how Women's World Banking is committed to women's rights. Although the gender gap in access to financial services has finally narrowed somewhat after many years of stagnation, women after all still have worse opportunities than men to open an account or get a loan.
Beating gender bias in AI!
Artificial intelligence (AI) is on the rise and changing our daily lives. But persistent biases in the datasets and models of AI applications reinforce the underrepresentation of women – especially in the Global South. Linda Bonyo of Lawyers Hub and Kathleen Ziemann of Deutsche Gesellschaft für Internationale Zusammenarbeit GmbH (GIZ) discussed how AI and gender inequality are linked and what solutions exist.
Connecting women in tech worldwide
In their [digital.global] MeetUp, Noémie Bürkl, BMZ, Julia Stausberg-Umuerri (develoPPP Ventures), Corinna Peters (Agency for Economic & Development) and Fridah Kibuko (WIDU.africa) talked about the role of women in the tech industry and exchanged ideas with representatives of public-private cooperation funding platforms and young tech entrepreneurs from the Global South.
Equitable, Digital, and Efficient – Financing Digital Public Goods in Health.
The COVID-19 pandemic highlighted the large funding gap and the resulting need for digital health services as an integral part of crisis resilient health systems and prevention of current and future pandemics. The panel of UNICEF, DIPC and GIZ discussed how #digitalpublicgoods can help prepare us for current and future health challenges.
CASH for the Twin Transition – how does digitalization become greener and climate protection more digital?
Satellite data for rainforest protection, e-waste, e-agriculture – digital transformation holds potentials and risks for climate protection, and in development cooperation both sides of the digital and ecological "Twin Transition" become particularly clear. Digital transformation now causes as many CO2 emissions worldwide as air travel. In their Lightning Talk, BMZ CDO Martin Wimmer and Dr. Georg von Richthofen from the Alexander von Humboldt Institute shed light on what solutions digitization has in store for the ecological challenges of the future.
Bits & Bissen: Connecting sustainable digital policy – locally and globally
In their session "Connecting sustainable digital policy – locally and globally", Mark Azzam from the German Federal Ministry for the Environment, Nature Conservation, Building and Nuclear Safety), Martin Wimmer (BMZ) with moderator Alexa von Busse explained how they can work together on a sustainable digital transformation and how an international digital strategy can support this goal.