Towards a feminist digital development cooperation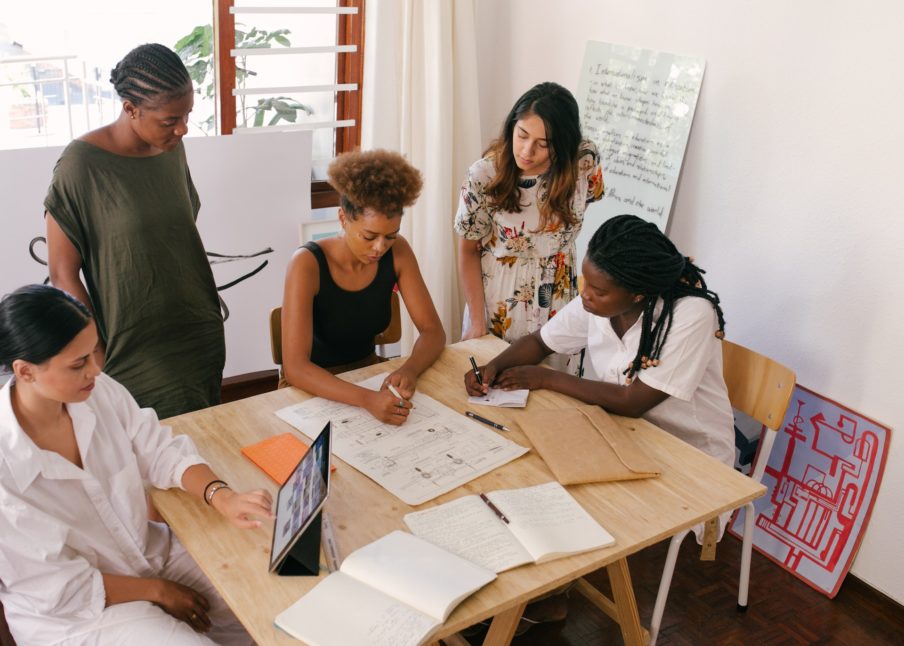 In proclaiming a feminist development policy, the German Federal Ministry for Economic Cooperation and Development (BMZ) has set itself the goal of addressing the roots of injustice and working more intensively for a (gender-) just society.
The new leadership focus is accompanied not only by a basic feminist conviction and a vision of goals, but also by the concrete task of advancing feminism at all levels. Previous thematic areas and priorities of German development cooperation must therefore be rethought in the coming years and linked to a feminist approach. What does this mean for digitalisation in German development policy? How can the two cross-cutting themes of digital transformation and feminism be thought together more strongly in the future? What will become more important on the path to digital feminist development cooperation? In 2023, three areas will increase in importance and receive greater commitment:
1. More intersectionality
German development cooperation is already working to overcome inequality in the digital transformation – especially the gender digital divide – and uses digital solutions for more inclusive and equal participation. In the course of a feminist development policy, an intersectional approach that addresses the entanglements and interactions of discrimination and inequality will become increasingly important. Digital projects and solutions will have to ask themselves to what extent they recognise and take into account people's different backgrounds and positioning.
The "APP Morada" developed in Mexico shows what this can look like in practice. The application offers resources and information on support services for women who experience violence. The special feature: the app was developed by and with women with disabilities, is barrier-free and addresses the specific needs of this target group.
2. Advocacy for feminist technologies
The fact that digital technologies are not gender-neutral tools but reflect social reality and thus existing power structures is no longer news. Advancing feminism on digital issues therefore means more than closing digital gaps and effectively using digital tools.
Rather, it is about helping to ensure that previously marginalised groups can actively shape and change digital technologies and the internet. In concrete terms, this means for feminist digital development cooperation, on the one hand, to ask more critical and intervening questions: Who and for whom is a technology being developed? Is it accessible to all? Who is empowered by it? On the other hand, it means promoting (feminist) principles such as access, participation, free software and data protection. Even if there is no uniform understanding of feminist technology, there are promising approaches and concepts that are relevant for development cooperation, e.g. the Feminist Principles of the Internet or Data Feminism.
3. Cooperation with feminist digital civil society
What applies to feminist development policy in fundamental terms must also apply to its implementation in digital issues: For the practical thinking together of feminism and digital transformation, the work with civil society, especially in the global South, is irreplaceable. Civil society is not only the central driving force for social justice. Various globally networked civil society initiatives have already been linking feminist politics and digitalisation for a long time. For example, the Women's Rights Programme of the Association for Progressive Communications (APC) has been creating an exchange and cooperation space for a creative and strategic use of technologies in and for the feminist movement with the Feminist Tech eXchange for more than ten years. Feminist digital development cooperation can and should take up the diverse experiences and strengthen feminist perspectives from the global South.
On the way to feminist digital development cooperation, it is important to build on previous experiences for (gender-) equitable digitalisation. At the same time, new and, above all, courageous steps must be taken. After all, the success of feminist digital development cooperation is also measured by how radically the transformative claim of both cross-cutting issues is implemented. The year 2023 offers a special opportunity space for this, not least through the strategic realignment of the BMZ's digital policy or the publication of a strategy for a feminist development policy.