The best of both worlds – How E-Commerce is boosting traditional small businesses in Ghana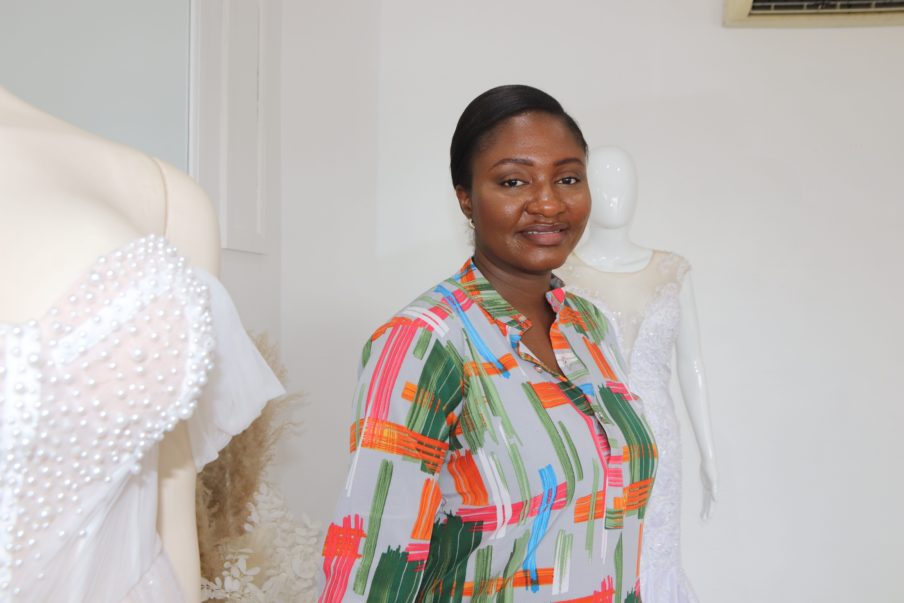 The "big day" is a big thing all over the world. In Ghana, weddings are not just a celebration of love between two people, but a symbol of unity, joy and tradition. Weddings serve as a time for families and friends to come together to celebrate. Needless to say, that couple's to-do list in the weeks and months before is long, on the top of it: the perfect bridal dress. But what if this can't be found in the store next door?
We talked to Abena Obuba, CEO and founder of Akatasia Brides, an Accra-based bridal shop, about why e-Commerce plays a crucial role for her business.
As Ghanaian weddings are held in two ceremonies with different outfits, the right clothes are all the more important. For the traditional ceremony held at home, the families come together in their traditional attire, the Kente, displaying their culture through their clothes. The white bridal dress then makes its appearance in the church wedding. Abena designs bridal dresses and custom-made Kentes and accompanies the bride from picking out the dress and altering it to the perfect fit – sometimes all online. She runs an online shop as well as a physical one and is active on all imaginable social media channels.
Reaching more customers through e-Commerce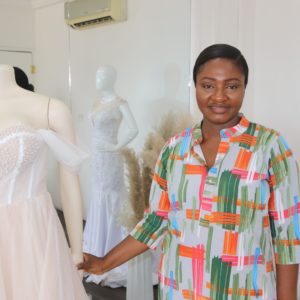 "I knew about the power of the internet, so I started without a physical store, I started with fittings at home."

Abena Obuba, CEO and founder of Akatasia Brides
But when sales increased, so did the need for a physical store for the voluminous wedding dresses, as they simply didn't fit into her home anymore.
For Abena its difficult to imagine her business just offline. However, being online can also bring along challenges: "People who want to start in the same business, see your prices and can start to compete with you and people could steal your designs based on your pictures and can also use your pictures to market their business."
Nonetheless, after more than eight years in business, experience has shown that the advantages by far outweigh. The biggest ones: As a customer, it is way easier to compare products of different sellers. For sellers, it is way easier to reach a bigger group of potential customers.
"If you were to run your businesses only physically, you would be at a great disadvantage as you would just be running locally and running on word-of-mouth. But if you run your business online and you have a website, you are serving a greater number of people. When I launched my website, I realized that people started trusting me, they weren't necessarily buying the dresses off the website. But because I had the website they could trust the business. They saw, this is someone that is serious about what they're doing."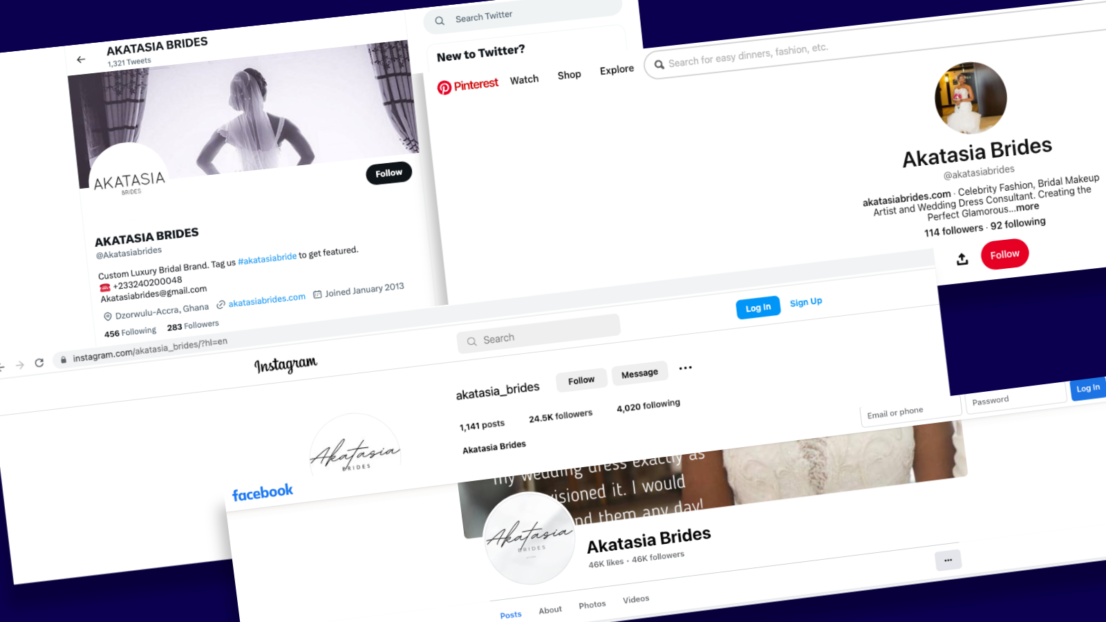 The value of trust when shopping online
Many of Abena's customers are Ghanaians located in the US, that either plan their weddings in their home country from far away or want to bring their Ghanaian culture through their clothes into their new location. With customers so far away, the process of altering dresses is brought online through exchanging measurements and photos via messenger. It is not just a service, but rather an experience. And bringing such an experience like shopping for bridal dresses online, requires a lot of trust.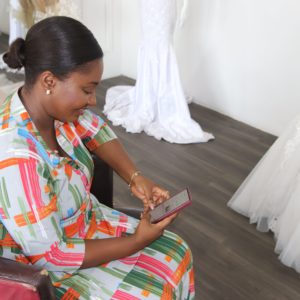 "If you're selling products, that could just be shipped to them, then they would have the experience after. But with a wedding gown, its different. My service is a rather private service. My customers can reach me directly via Zoom or Whatsapp Calls and we do the measurements and altering online. We interact very personally so they don't have to be here."

Abena Obuba, CEO and founder of Akatasia Brides
E-Commerce across Africa is advancing rapidly, yet effective regulations governing the sector often times are not yet in place or are lagging behind evolving technology. Limited cross-border harmonization of rules and regulations are further constraining the African e-Commerce sector. The Pan-African E-Commerce Initiative focuses on strengthening the regulatory framework for e-commerce by advising relevant stakeholders on the development and implementation of e-commerce regulations.
Offering innovative e-payment methods like the so-called Mobile Money ("MoMo") also lowers the barriers for shopping online. Money uploaded to a SIM card of a phone and with a associated Mobile Money number, can substitute a bank account, which might not be available to all people. With a secured pin, Money can then be transferred from number to number.
The Pan-African E-Commerce Initiative supports Smart Africa in developing a blueprint how to improve the electronic payment system for digital trade across Africa.
Trust, in general, is a critical component of any e-commerce transaction between a customer and a seller. It acts as the foundation for building a mutually beneficial relationship, where customers are confident in the safety and security of their personal and financial information, and sellers can be confident in receiving payment for their goods and services.
The Pan-African E-Commerce Initiative has piloted a trust seal which certifies e-commerce companies in Rwanda that meet high quality standards. The goal is to increase trust amongst customers which eventually leads to a boost in e-Commerce sales.
For Abena it is the interacting on Social Media that creates trust between her customers and her: "When someone sends you a message, you have to be ready to respond. When you take too long and don't interact properly, they will not trust you. Why trust a seller that doesn't even respond to your messages with sending you a product after you paid for it first? Interaction is key, you have to see the people behind the digital device and this is exactly what a lot of businesses are missing. They see their customers just as figures and not as actual people, who you have to interact with and build trust."
Trust goes a long way. A satisfied customer will refer the business: "I noticed about the power of reviews: my customers have the possibility of giving me a review on google. E-Commerce makes it very, very easy for people to decide which bridal shop to go for and it makes them trust the shop – if all the other brides recommend it, it must be good."
How e-Commerce trainings boost business
Abena deepened her knowledge and skills about the benefits of e-Commerce in the Trainings of the Pan-African e-Commerce Initiative by GIZ. The goal of the trainings is to support SMEs to utilize e-Commerce solutions to grow their business.
Pan-African e-Commerce Initative (PeCI)
The Pan-African e-Commerce Initiative (PeCI), together with key partners, has been offering trainings and coaching sessions for SMEs in Ghana, Kenya and Rwanda to integrate e-Commerce solutions into their business models. Since 2020 more than 400 SMEs participated training sessions, of which more than 50% were women-led SMEs.
The training and coaching allowed Abena to further define her business model by integrating more e-commerce sales channels. Participating in the training made her realize again how important the online presence is for her: "Everybody is holding a phone these days, so why shouldn't your business be there?" It was after the PeCI Training, that she started her website. Since then, she has not let any digital channel to chance and discovered that for example Youtube is extremely helpful for her to gain customers outside of Ghana.
Bringing traditional business online might not always be easy, but it can provide extra value to the customer, especially if you offer more of an experience than just a service. Abena's journey shows how using digital platforms can transform the way a small business can succeed in the digital future.
The PeCI Initiative operates under the umbrella of the Digital Transformation Center Ghana