Carbon footprint of ICT
As a result of the increasing digitalisation and interconnectivity of things and processes, are not only more and more IT devices being produced, but more data is also being generated and transferred. Data transfer therefore plays a decisive role in addition to production costs for the carbon footprint of ICT devices. This is because both the storage of the growing data volumes in data centers and the increasing transmission of growing volumes of data generate greenhouse gases.
Streaming of movies or music in particular takes up a large share of data traffic. In addition, there are Big Data or VR applications, which also increase data traffic. Also, a lot of data is no longer stored locally, but externally in the cloud and transferred as needed.
According to the Global e-Sustainability Initiative's Smarter2030 Report the carbon footprint of ICT is split between end-user devices, storage and transmission (Figure 1).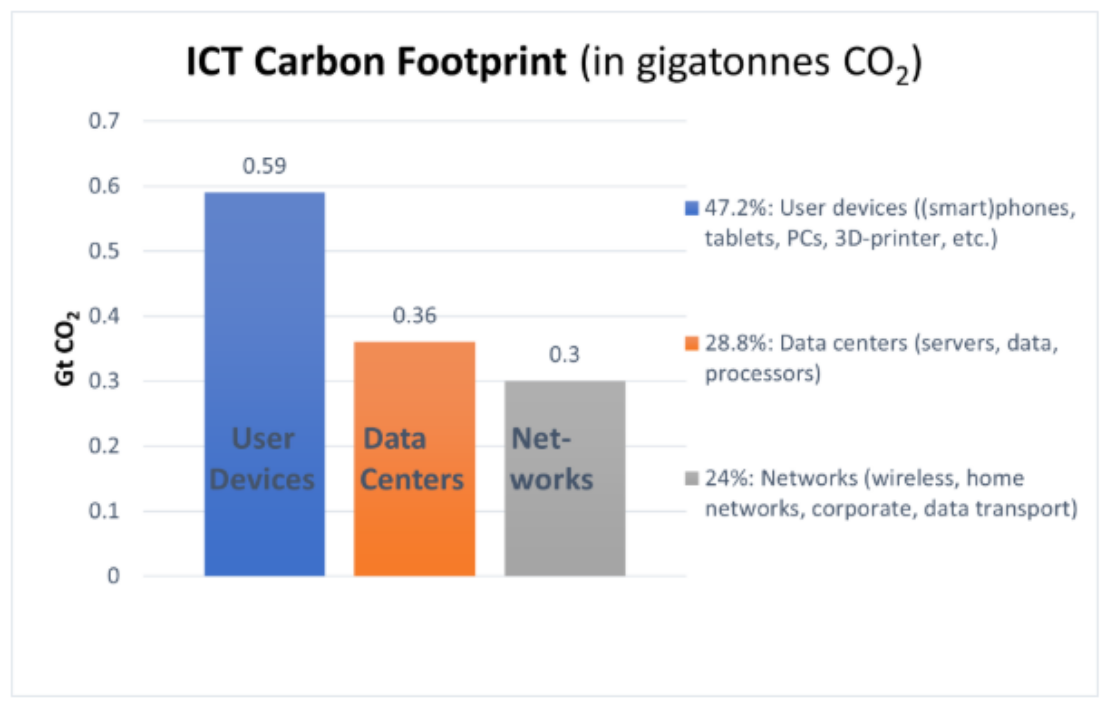 However, greenhouse gas emissions can be drastically reduced by constantly optimising and increasing the efficiency of the underlying technologies.
Low-emission data transmission
The Federal Environment Agency has compared the greenhouse gas emissions for one hour of video streaming with different cellular network and cable transmission standards (Fig. 2).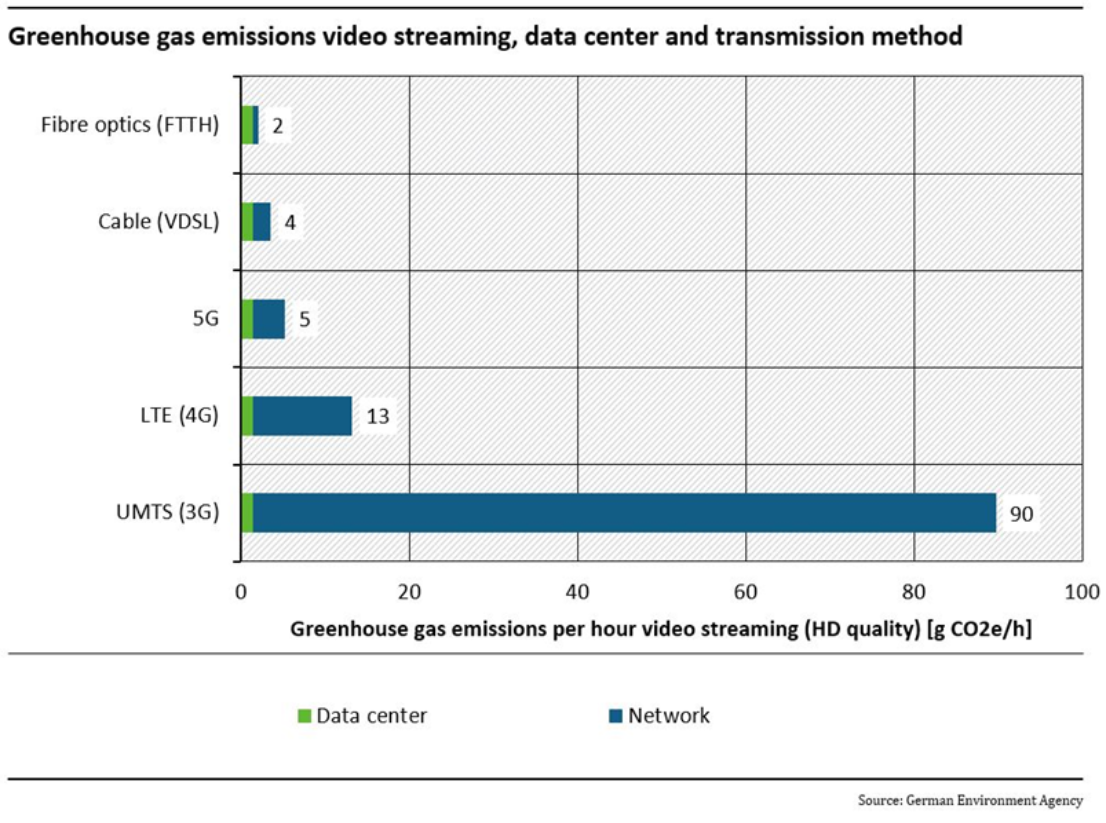 In particular, reductions in greenhouse gas emissions from the former UMTS/3G standard to the future 5G standard (from 90g to 5g CO2 per hour of video streaming) were achieved for transmission.
With wired fiber optic technology (FTTH), transmission produces only comparatively little CO2 (2g/h).
Data Storage
Data centers enable the storage of data as well as their processing. Especially cloud computing, where computing resources are no longer provided locally but on remote servers, is enjoying enormous popularity.
Data Centers are used for processing and storing data. To this end, they offer reliable supply and security infrastructures. In addition to servers, storage and network technology, these include cooling, energy supply and monitoring facilities. In order to ensure the highest possible availability, the individual components are designed redundantly, so that the data is available at all times. In the past, most companies had their own data centers, but today more and more co-locations are being used.
Co-Location refers to the service of providing data center space for third parties to operate information technology. A co-location data center is usually shared by several (commercial) customers.
Cloud computing provides IT infrastructure (storage, software, computing power) via the Internet so that they do not have to be available on local computers. With cloud computing, own hardware resources are saved and especially with large amounts of data, the storage can be used flexibly. Cloud services can be accessed from anywhere at anytime. This saves hardware and energy costs.
A disadvantage of cloud services is external storage, which can be particularly critical for personal, sensitive or national data if the storage does not comply with national data protection guidelines. Furthermore, the services are only accessible online, so a reliable internet connection is necessary.
The Energy consumption of a data center is primarily determined by the servers, storage (operation) and cooling/climate control. The amount of data is constantly increasing, but the energy requirements for computing power and storage have been significantly reduced by technical improvements. The increased use of cloud computing also contributes to this, as storage capacities can be shared and used as required. This reduces operational costs and energy consumption. For cooling, water or air cooling is used, which require a lot of water or energy despite improved techniques. However, the resulting waste heat can be used for heating nearby buildings. Due to the high cooling costs, data centers are often operated in cooler regions, such as the first Climate-positive data center in Sweden.
Energy saving opportunities are possible in data centers among others by:
Efficient algorithms and programming
Efficient hardware solutions (replacement of older devices, standardization)
Optimized cooling and air conditioning solutions
Use of renewable energies
Use of waste heat
Reduction of energy demand through intelligent design and use of ICT systems (use when energy is cheaply available, slower computing steps, different systems for different applications, modular design, AI control)
Savings by reducing the number of data centers
Virtualization and hyperscaling as energy and cost savings
Recycling or refurbishment of hardware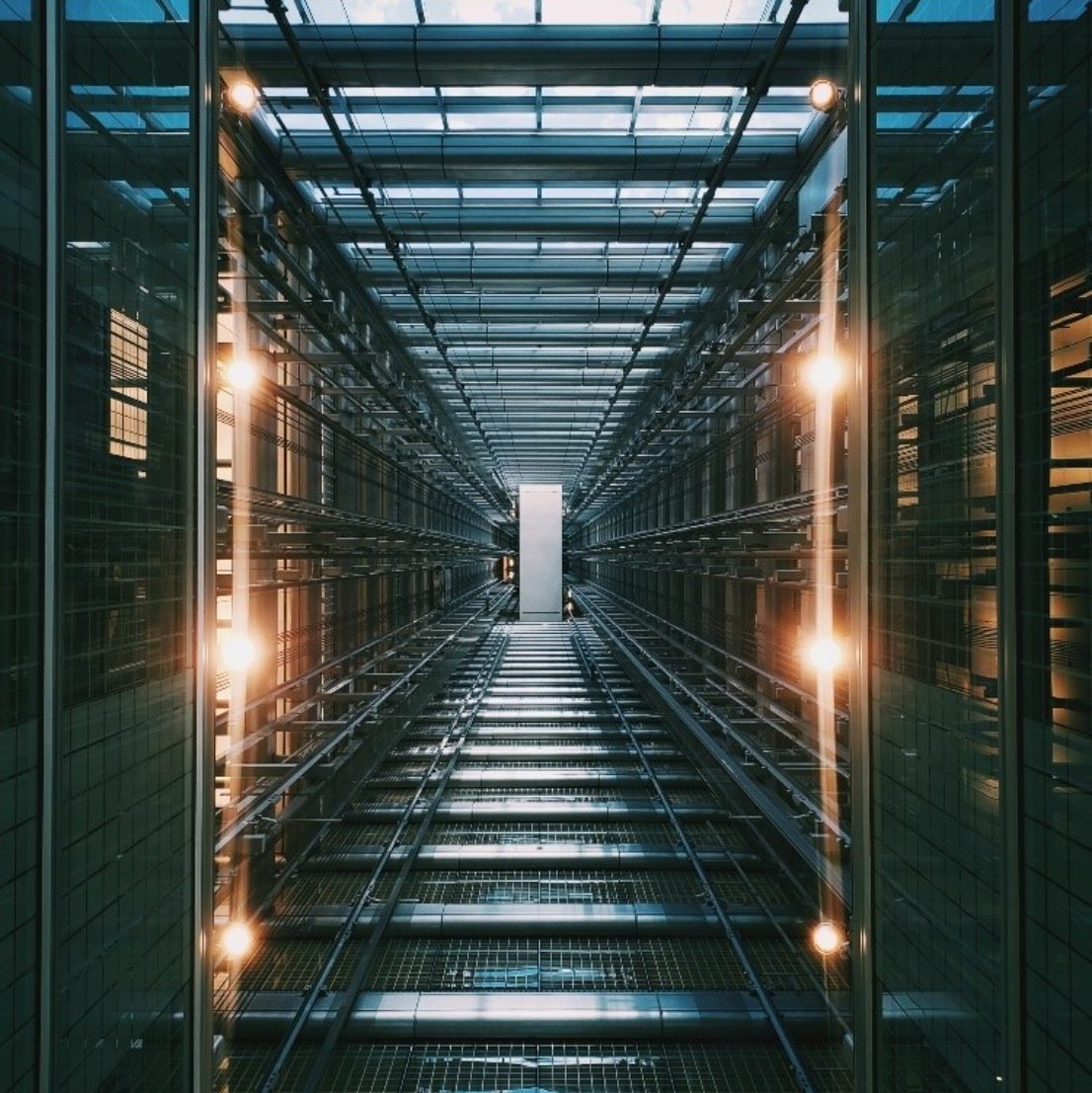 Data Centers Worldwide
Although the digital economy is growing rapidly worldwide, in the beginning of 2021 80% of the total of 4,714 co-location data centers were located in developed countries, predominantly in North America and Europe, and only 153 in Latin America and only 69 in Africa, according to UNCTAD.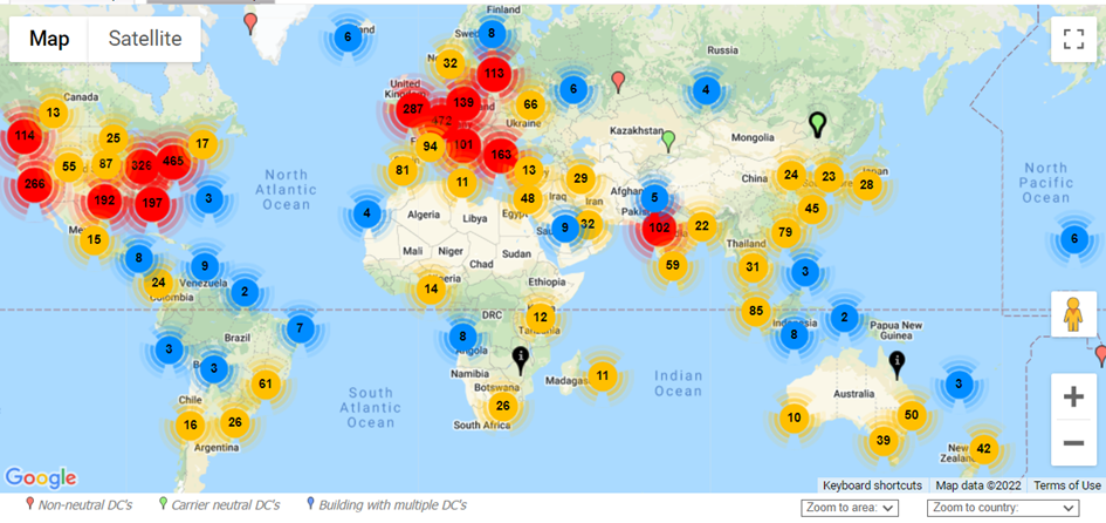 In principle, data can be stored regardless of location, as data can be transferred quickly worldwide. However, a local data storage offers the following advantages:
Cost savings
Lower latency, which is particularly required for real-time data applications and monitoring
Mitigate power outages and lack of redundancy by diversifying data centers
Security and data protection reasons requiring the storage of sensitive data domestically
Promotion of local economy and infrastructure
For these reasons, local data centers have recently been increasingly built in Africa as well.
However, to ensure high availability local data centers can be more expensive to maintain with unreliable power supply. Furthermore, specific data centers must be connected to sufficient power grids and a good telecommunications infrastructure. Climatic conditions must be taken into account, as sufficient cooling of the servers must always be ensured. On the other hand, data centers in warmer countries could be operated by a large extent with solar energy.
Recently, international companies such as Microsoft, Amazon, Atos or Huawei have been investing in data centers on the African continent to offer cloud or big data services. Teraco Data Environments, Africa's largest data center operator, is investing primarily in data centers in South Africa. Data centers are also being built as energy-efficient as possible for cost reasons.
But also development banks and international organisations are promoting the construction of green data centers: for example, the AfDB invested in an ICT cluster in Senegal, the AFD (Agence Franç aise de Développement) is supporting the construction of data centers in Ghana and Djibouti, the World Bank/IFC is promoting modern data centers in Egypt, Nigeria, Kenya and South Africa and the AU, in cooperation with the World Bank, is supporting data centres as well as network infrastructure as part of the Moonshoot Initiative.
Currently, the political initiative Data Economy is participating in the "Data Centres & Cloud for Africa Project" of the Smart Africa Alliance. Here, a pan-African strategy for expansion as well as technical and regulatory recommendations for promoting sustainable data centers are being developed.