The BMZ is committed to equitable global digitization based on a coordinated international digital policy along digital standards. In doing so, we count on the cooperation of our international ecosystem of policymakers, the private sector, academia, and civil society. In doing so, we aim to spearhead the implementation of an equitable social-ecological digital transformation in our partner countries that is sovereign, fair, feminist, and sustainable. In doing so, the BMZ is pursuing the following priorities:
Reducing hunger and poverty
Harnessing the potential of digitization and data for poverty reduction
Promoting Just Transition
Making digital transformation greener and using digital tools for more climate protection
Managing the Covid 19 pandemic and its consequences, preventing new pandemics
Using data and digital eHealth applications to manage pandemics and strengthen health systems
Develop a feminist development policy
Closing digital gaps between men and women
Our activities focus on the following topics: strengthening people-centric digital public infrastructure, promoting fair regulation, and enabling digital innovation.
Digital Public Infrastructure (DPI)
is the basis for the digitization of public and private services in every country worldwide – this includes, for example, the digital ID, digital payment systems or the exchange of data. We are relying on a modular principle here: Individual services are available as ICT building blocks that can be used universally and should be based on interoperable and open technologies. The aim is to reduce dependencies on global technology companies and strengthen the digital sovereignty of our partners.
Learn more about our political initiatives in this area: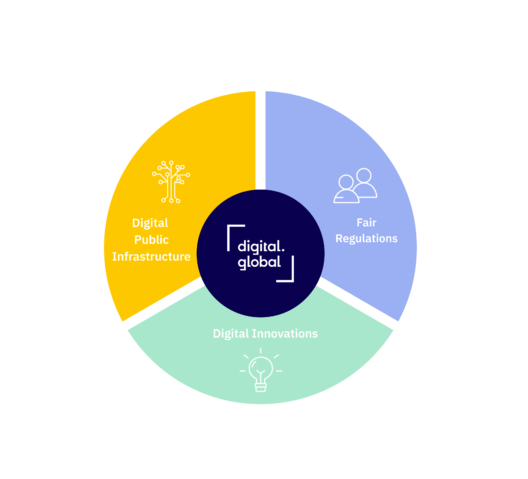 Fair Regulation
enables equal access to the Internet and digital services for all population groups and creates global integrated data markets. BMZ's approach to fair regulation is based on German and European people-centered data protection and privacy standards.
Learn more about our political initiatives in this area: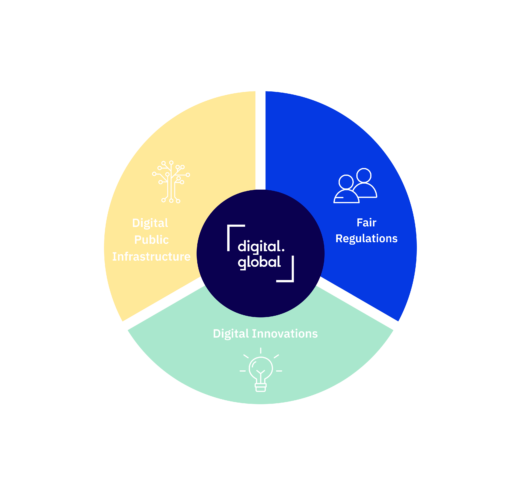 Digital Innovations
are created primarily in good cooperation with private-sector players. For this reason, the BMZ will increasingly enter into such collaborations in order to work with partner countries to promote local economic systems and enable reverse innovation.
Learn more about our political initiatives in this area: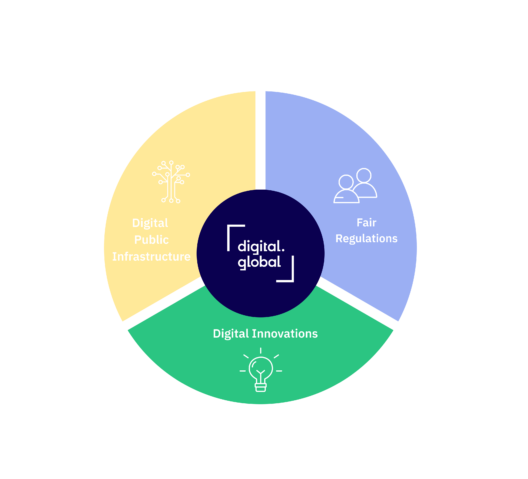 In the future, we will join forces in a broad network between development policy, the digital economy, civil society and science – the Network for Digital Transformation in Development Cooperation. The aim is to develop joint solutions for the major changes brought about by the changing times, the climate crisis and digitization, and to achieve greater impact on the ground through cooperation between public and private partners.