The global objectives for sustainable development can only be achieved with new digital technologies. As a result, we believe that digitalisation in developing countries can offer particular potential and opportunities in relation to five key areas. In our digital strategy "digitalisation for development", we laid out specific objectives for digitalisation in German development policy. We operate primarily in these fields and are planning to further expand our commitment here.
Digitalisation for people
In a brief video, we show how we aim to use digital solutions in development partnerships to achieve the global sustainability targets for Agenda 2030: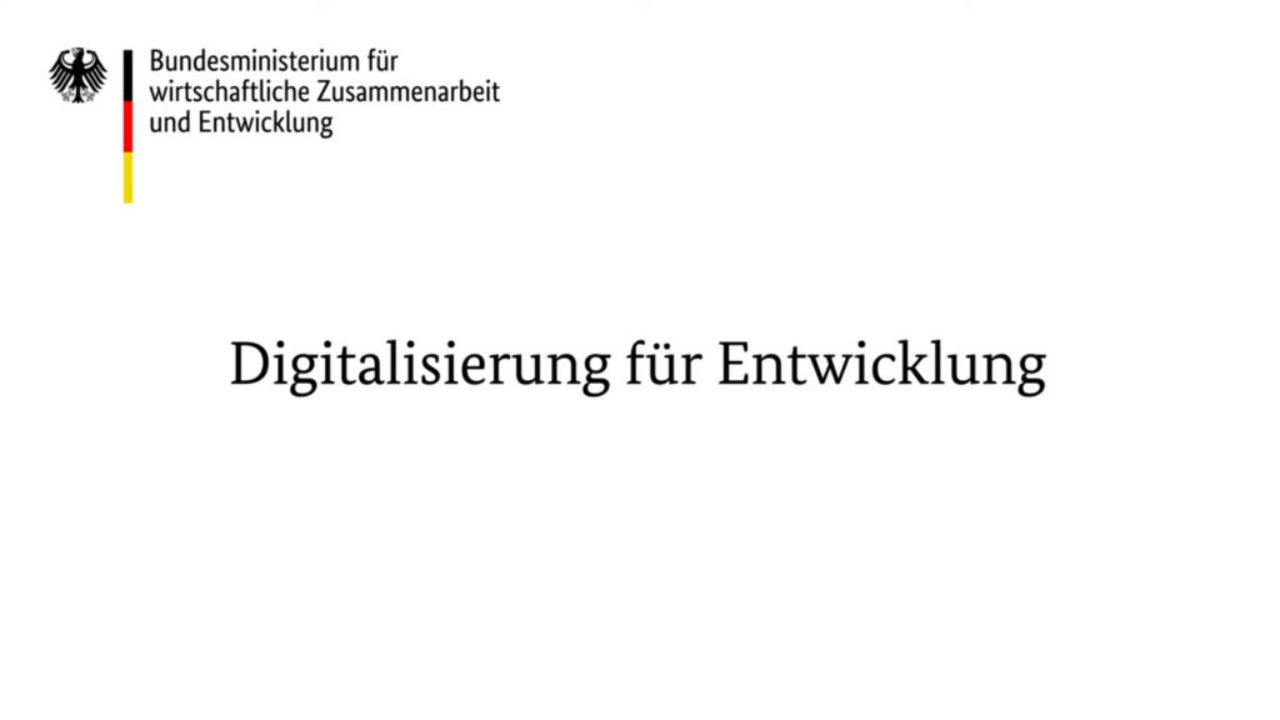 The risks of digitalisation – and what we can do about it
The Federal Ministry for Economic Cooperation and Development (BMZ)has identified particular risks arising from digitalisation in the following areas for developing and emerging markets:
Risks
in relation to work
in respect to an absence of innovation
in respect to inequality of opportunity
in relation to "good government and human rights"
in relation to data
In the context of development partnerships, we address these risks in the following fashion: The advancement of automation arising from the adoption of digital technologies may result in the disappearance of up to two-thirds of all current jobs in developing countries. The Federal Ministry for Economic Cooperation and Development therefore supports the development of new digital skills, especially for women and girls. We also fear that if governments do not impose limits, digitalisation will increase the prominence of informal work forms in developing and emerging markets and result in even greater job insecurity instead of creating contractually regulated work with social security. With the Fairwork Foundation, the Federal Ministry for Economic Cooperation and Development is therefore encouraging a fair digital job market, even in the era of the platform economy.
There is also the risk of disadvantaged people being left even further behind. Worldwide, 3.9 billion people still have no internet access. This issue is compounded by unstable power supplies and poor availability of broadband internet connections and computers in many countries. The Federal Government therefore supports the appropriate development of infrastructure and internet availability in developing countries, in particular through development banks such as the World Bank.
Finally, there is the risk that authoritarian regimes will use digital instruments to monitor citizens or representatives of civil society, spread misinformation and suppress the flow of free information in the internet. Therefore, the Federal Ministry for Economic Cooperation and Development continues to encourage the primacy of the rule of law with a strong civil society even in this digital age, and supports initiatives such as Project TruBudget aimed at ensuring greater transparency in public investment in developing countries.
Regarding the mitigation of such risks, the concept of the Federal Ministry for Economic Cooperation and Development "Human Rights in German Development Policy" is binding for the institutions involved in the German government's development partnerships. Before they are awarded contracts by the Federal Ministry for Economic Cooperation and Development, the organisations commissioned to execute the German development partnerships must therefore undergo an audit of their policies aimed at ensuring social, environmental, gender equality, human rights and context sensitivity standards and observe the Federal Ministry for Economic Cooperation and Development's "Guidelines on Incorporating Human Rights Standards and Principles in Programme Proposals for Bilateral German Technical and Financial Cooperation". These procedures apply to all projects related to German development partnerships – including digitalisation projects.
Overview lighthouse projects